This organic herbed roast turkey cooks fairly quickly, tastes delicious and because it calls for organic ingredients it's healthier for you and your family too. There are many benefits to choosing organic food because organically grown foods don't add pesticides, fertilizers and other chemicals into your diet or the environment.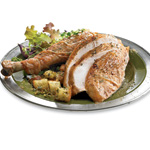 Ingredients:
1 7-8 lb organic grown turkey
1/4 cup/60 mL Original Grapeseed Oil
2 tbsp/30 mL Watkins Organic Garlic Powder
2 tsp/10 mL Watkins Organic Basil
1 tsp/5 mL Watkins Organic Sage
1 tsp/5 mL Watkins Organic Parsley
1 tsp/5 mL Watkins Sea Salt
1/2 tsp/2.5 mL Watkins Organic Black Pepper
Directions: Preheat oven to 375°F/190°. Rinse turkey inside and out, discard giblets and neck or set aside in refrigerator for another use and place turkey in a roasting pan.
In a small bowl, combine oil, garlic powder, basil, parsley, sage, salt and pepper. Using a basting brush, liberally apply the mixture to turkey.
Roast turkey for 2 to 2 ½ hours, baste every hour with left over herb mixture or pan drippings. Cook until the internal temperature of the thickest part of the thigh reaches 160°F/71°C. Remove bird from oven and allow to stand for about 15- 30 minutes, to allow juices to distribute and internal temperature to rise.
Note: if you are cooking a larger bird allow approximately 20 minutes cooking time per pound of turkey.
You'll find the very best organic herbs and spices in the Watkins US store or the Watkins Canadian store.