Welcome, since you're new here, you may want to subscribe to the RSS feed or sign up to receive your free Herbs, Spices and Seasoning Guide plus you'll receive updates delivered to your inbox when new recipes and tips are published. Thanks for visiting!
Potato salad is a summer staple in many homes since it can be prepared ahead so you won't need to heat up your kitchen during the hottest part of the day. Potato salad recipe is great for lunches, picnics, barbecues and pot luck dinners. This recipe is so quick and easy you can enjoy it year round!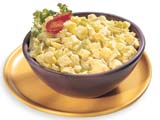 6 medium potatoes, cooked and peeled if desired
3 tbsp vinegar
2/3 cup mayonnaise, regular or low fat
2 tsp Watkins Potato Salad Seasoning
Directions: Cube cooked, cooled potatoes, mix remaining ingredients in a bowl, add potatoes and gently toss to distribute dressing. Refrigerate until serving, enjoy!
The secret is the Watkins potato salad seasoning, try it and see for yourself! Why not make the best potato salad ever?