Welcome to week one of the Healthy Holiday Recipe Round Up. This was last minute idea, so rather than wait an extra week I decided to just go for! This didn't give people much time to enter their recipes but I expect we will have a bigger turn out next week. Anyways, I know you won't be disappointed with this week's recipes and there is sure to something just right for your Thanksgiving menu.
Our first featured recipe is a Banana-Pineapple Breakfast Shake from Meg's Country Kitchen. It's perfect for the busy holiday season or when ever you need to have Breakfast on the Fly! Great for the whole family and especially good for diabetics.
I was impressed with these Thanksgiving recipes: Delicious options for healthy eating from the Mayo clinic, with links to lots of healthier recipes so I just had to share it with you.
More and more people are switching to organic food for their own health and for that of our planet so here's an Organic Herbed Roast Turkey for you to try. Turkey on it's own is low fat, add grapeseed oil and herbs and it's a real all round winner.
I also found Discovery Health has healthier versions of traditional holiday fare. Try this Cranberry Salsa recipe, it's sure to spice up your menu!
Love Homemaking submitted a recipe for Healthy Rum Raisin Spice Muffins made with whole wheat flour and oat bran perfect for a holiday breakfast, afternoon pick me up or bed time snack.
From Harvard Medical school tips on foods you can enjoy guilt-free this year. Recipes for a happy, healthy Thanksgiving and includes two dessert recipes, Sweet Potato Pudding and Zesty Pumpkin Custards.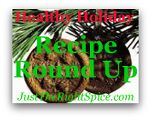 We'll be back next Wednesday with a round up of more great recipes.
We'd love to feature your healthy holiday favorites, go here to find out how to enter them.