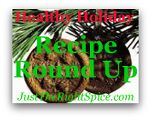 You are invited to join the healthy holiday recipe round up to share and find delicious, healthy recipes for your holiday menu. Starting on November 12th, 2008, and then every Wednesday for the next four weeks Cooking with Just The Right Spice will be featuring healthy holiday recipes from across the blogosphere.
Do any of these traditional holiday foods sound familiar to you? Turkey with bread stuffing, creamy mashed potatoes and gravy. How about sweet potatoes or yams with brown sugar and marshmallows, green bean casserole, and breads. We can't forget the many desserts and goodies such as pies, cakes, cookies, squares and other treats that are being planned for the upcoming holiday.
Don't despair, you and your family can enjoy your holiday feasts and still maintain a healthy diet. Substituting whole grains, low fat, low sodium ingredients and using less sugar are some of the ways in which you can cook up a healthy alternative.
To help you find healthier versions of traditional and unique holiday recipes for your menu I'm hosting the recipe round up! I'll be posting recipes for the holiday here which support living a healthier lifestyle and I'll be linking to other great recipes that help you sustain that goal as well.
Four weeks of healthy recipes for the holidays!
How do you participate? I'm so glad you asked, it's easy and here's how!
If you are food blogger:
Simply post a recipe on your blog and include a link back to this post. Your recipe must be health conscious, for example one or more of the following; whole grains, low fat, low sodium, reduced sugar, vegetarian, gluten free, egg free etc.
You may submit an older post as long as you edit it to include a link back here.
Then let me know about it by contacting me here, include your name, the link to your post and anything special you would like to tell us about your entry.
Post the Healthy Holiday Recipe Round Up Button on your blog along with your recipe or in your side bar or both and link it back to this post, optional but very much appreciated!
Limit one entry per blog per week.
I reserve the right to choose which entries are featured and the right to up date the rules if required. (It's my party but I promise to be fair!)
Submit anytime, but the deadline for each week's submission is midnight Sunday.
Everyone:
Simply visit each week to see what wonderful new recipes are featured in this week's recipe round up.
Then visit the blogs of the featured submissions and enjoy.
We'd love to hear from you so please leave a comment each week before you go.
Don't forget to tell your friends about this fun event!
Schedule of Events
To make it easy for you, I'll link to each week's post from here as well.
Visit November 12th's recipe round up
Visit November 20th's recipe round up
November 26th recipe round up
December 3rd recipe round up
So what are you waiting for? Join in the fun, I can't wait to see what great recipes you have to share with us!