It's easy to make your own popcorn seasoning so you can enjoy this healthy snack with your whole family while you watch a good movie or play a board game together. This recipe is a bit spicy and hot, you'll find some more seasoning suggestions in the tips from the kitchen.
Ingredients:
2 tbsp Watkins grapeseed oil, original or flavor of choice
1 cup popping corn
6 tbsp butter
1/2 tsp Watkins cayenne pepper
1/2 tsp Watkins paprika
1/4 teaspoon Watkins garlic granules
1 tsp Watkins seasoning salt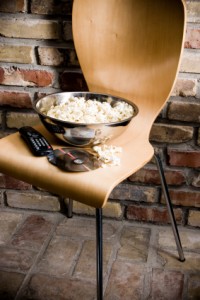 Directions: in a large, heavy saucepan heat the oil, add the popcorn, cover and cook while shaking the pan until the corn stops popping. Place the popcorn in a large serving bowl.
Meanwhile, melt the butter in the saucepan, stir in cayenne pepper, paprika, garlic and seasoning salt and pour over popcorn. Mix well and enjoy!
Tips from the kitchen:
Make this an even healthier snack, reduce the fat, calories and cholesterol by substituting 2 tablespoons of grapeseed oil for the butter called for.
Don't like it hot? Substitute one or a combination of these herbs and spices for another tasty snack, try parsley, dill, onion granules, minced green onion or curry powder.
You can find the best gourmet or organic herbs, spices, seasonings and grapeseed oil for delicious and healthy popcorn at Watkins.
You can find lots of great popcorn information, recipes and tips at PopCorn.org.