This is a spicy and healthy sausage ball recipe that's low in fat, sodium and carbohydrates because it's made with lean ground turkey. Shape the meat into quick cooking two bite balls, your kids will love them or patties if you prefer. These are good for breakfast, your main course or even as appetizers. Making your own sausage means you can control the ingredients and what your family eats.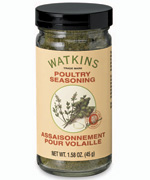 Ingredients:
2 pounds lean ground turkey
2 tsp Watkins poultry seasoning
1 tsp. Watkins black pepper
1/2 tsp. Watkins ground ginger
1/2 tsp. Watkins cayenne pepper
Watkins grapeseed oil
Directions: Place the turkey into a large mixing bowl. Add the poultry seasoning, pepper, ginger and cayenne pepper. Mix with your hands until completely incorporated together. Shape the mixture into 2 inch balls or patties about 1 inch thick. Place a tablespoon or so of grapeseed oil into a large skillet and place over medium heat. When the oil is hot but not smoking, add the meat balls till the pan is half full, brown the sausage balls on all sides by gently shaking the pan so they can roll around. Cook balls for 5 – 8 minutes or until cooked through. If making patties brown for about 5 minutes, turn the patties and continue cooking 5 minutes longer or until the meat is not longer pink.
Makes 16 -24 sausage balls or 8 patties.
Nutritional Information: (Approximate Value for 2 patties) 85 calories; 5 g fat; 1 g saturated fat; 45 mg cholesterol; 25 mg sodium; trace carbohydrates; trace fiber; 10 g protein
Using Watkins poultry seasoning and other spices makes it quick and easy for you to have perfectly spiced delicious sausages every time!