If you are craving homemade pumpkin pie just like Mom used to make, this one is for you! This is a fairly easy, basic, old fashioned recipe, that's tried and tested. You can use fresh cooked pumpkin or canned.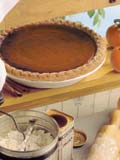 Ingredients:
1 Cup / 250 ml Sugar
1 Tablespoon / 15 ml All-Purpose Flour
1/2 teaspoon./ 2.5 ml salt
1 Tablespoon/ 15 ml Watkins Pumpkin Pie Spice
3 Large Eggs
1-1/2 Cups / 375 ml canned or mashed, cooked pumpkin
1 Cup / 250 ml Evaporated Milk
1 Unbaked 9-inch / 23cm Pastry Pie Shell
Directions: Combine sugar, flour, salt and Pumpkin Pie Spice; beat in eggs. Stir in pumpkin and milk. Pour into pie shell. Bake at 400 degrees F/205 degrees C for 50 minutes or until a knife inserted in center comes out clean. Make 10 servings. Top with whipped cream flavored with Watkins Vanilla.
Tip from the kitchen: to cook fresh pumpkin, wash, cut in half, remove seeds (set them aside to roast later if desired) and discard stringy bits. Cut pumpkin into four inch pieces, place in a large saucepan with several inches of water and bring to a boil. Then reduce heat and steam until tender. Cool, remove pumpkin from skin with a spoon and mash to use in pie or other recipes.
Don't try to use regular milk, it will turn out runny and won't set!
This much-requested recipe was once featured on Watkins Pumpkin Pie Spice label.