This fruit coffee cake is low fat and not too sweet, if you want to reduce the sugar more use unsweetened apricots, peaches, or applesauce and use only 1/4 cup of sugar in the topping. You can use any kind of fruit you have on hand, I've made this recipe with frozen raspberries or blueberries as well.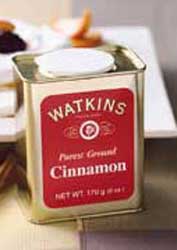 Ingredients:
2 tablespoons butter
4 tablespoons sugar
1 egg or 2 egg whites
1 2/3 cups flour (sifted)
3 teaspoons Watkins Baking Powder
1/4 teaspoon salt
1/2 cup milk
1 teaspoon Watkins Vanilla
1 cup sweetened cooked apricots, peaches, diced or applesauce
1/4 teaspoon Watkins lemon Extract
Directions: Cream together the butter and sugar, add the egg and beat well. Sift together the dry ingredients and add alternately with the milk. Add Watkins Vanilla. Place in an oiled pan and cover the dough with the fruit, adding Watkins Lemon Extract to the fruit really brings out the flavor. Sprinkle with topping, recipe below and bake 30 minutes in a 375 degree oven.
Cinnamon topping ingredients:
1 tablespoon butter, melted
1/4 cup flour, sifted
1/2 cup sugar
2 tablespoons Watkins Cinnamon
1/2 teaspoon Watkins Vanilla
Blend all the ingredients thoroughly, sprinkle or spread over the unbaked fruit and batter.