We had a lovely salmon dinner last night, my Mother always called it brain food and she was pretty close. It's a good source of protein that's low in saturated fat and cholesterol and it contains healthy omega-3 fatty acids. Here's how to cook salmon.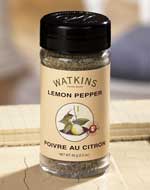 The easiest method of cooking salmon is to simply season it with a little lemon pepper or fish and seafood seasoning; pan fry the steaks or fillets at medium-high heat in a little grapeseed oil. Cook for about 5 minutes per side or until the flesh has changed a lighter color and no longer looks opaque. The flesh is very delicate so take care when turning the pieces so the fish doesn't break or fall apart.
As a general rule for each inch (2.5 cm) thickness it takes 10 minutes to cook fresh salmon, you'll need to allow 12-15 minutes per inch if it's partially thawed and 20 minutes per inch if the fish is frozen. You'll need to add 5 minutes to total cooking time if salmon is wrapped in foil (see below).
How to Cook a Whole Salmon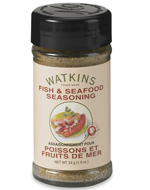 The easiest way to cook a whole salmon is to bake it in the oven or cook it on the barbecue. Lay the whole salmon on a large piece of aluminum foil that has been sprayed with Watkins cooking spray. The foil needs to large enough to wrap around the fish to make a sealed package. You may also use parchment paper if you are baking it in the oven. Season the fish with fish and seafood seasoning or the herbs and spices of your choice (see below) as well as slices of lemon or a 1/4 cup of lemon juice. Cook for the time indicated above or until the fish is done.
Other spices to use with salmon are basil, black pepper, cayenne pepper, coriander, chili powder, curry powder, cloves, dill, marjoram, oregano, tarragon and thyme.
The secret to moist, delicious salmon not to overcook it, and a sprinkling of just the right, good quality spices!