Do you love soup? Here is a wonderful french onion soup recipe for you. Onions are chock full of good things for you, to make this recipe healthier reduce the amount of butter, use grapeseed oil or a combination of the two.
Ingredients:
5 medium onions
3 tbsp/45 mL butter or Watkins grapeseed oil
1-1/2 quarts/liters water
1/4 cup/60 mL Watkins Beef Soup and Gravy base
1 tbsp/15 mL Watkins Onion Soup and Gravy base
1/4 tsp/1.2 mL Watkins Black Pepper
Pinch of Cayenne Pepper
Pinch of Watkins Thyme
6 slices French bread
Butter or butter and grapeseed oil mixed half and half
1 cup/250 mL (4 oz/113 g) shredded swiss cheese
Directions: Peel and thinly slice onions. Heat the 3 tbsp/45 ml butter in a heavy 3-quart/liter saucepan over low heat; add onions and cook slowly, stirring until golden in color, about 10 minutes. Gradually blend in water, soup bases, and seasonings. Bring to a boil; cover and simmer about 15 minutes. Meanwhile, toast one side of bread under broiler until golden brown. Butter untoasted side and sprinkle slices with 1/4 cup/60 ml cheese; broil until cheese is melted. To serve, place hot soup into oven-proof bowls or mugs; float French bread slices on top. Sprinkle with remaining cheese; broil until cheese is bubbly and brown.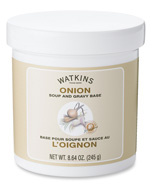 Makes 6 servings.
Nutritional Information Per Serving: Calories 300, Protein 12 g, Carbohydrates 34 g, Sodium 1130 mg, Fat 14 g, Saturated Fat 7 g, Cholesterol 33 mg, Dietary Fiber 3 g
You'll find the best gourmet ingredients for your soup in the Watkins US catalog or the Canadian catalog.
Tips from the kitchen:
If onions make you cry, try chilling them in the fridge for an hour or two before peeling and slicing them. Or if that doesn't work for you, try wearing a pair of snug fitting goggles to prevent the fumes from getting into your eyes. You might look a bit funny but it really works! If the weather is warm or goggles aren't your style, take your cutting board and onions out doors and let the breeze blow the fumes away.
Stock your pantry with Watkins soup and gravy bases, they are a handy staple so you can quickly and easily make a variety of soups, stews and other delicious entrées.
To reduce the calories and saturated fat in this soup, replace the butter with grapeseed oil and reduce the amount of cheese, it will still be delicious.