This is my favorite shortbread cookies recipe, it makes delightful, rich butter caramel cookies that melt in your mouth. They are perfect for Christmas or any time of the year. I like to decorate them with half a glace cherry just like my Mom did, but you can leave them plain or use colored sugar or sprinkles.
Ingredients: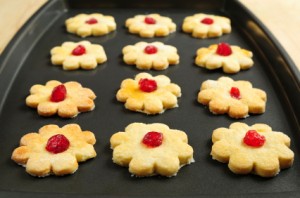 1 cup butter, softened
1/2 cup packed brown sugar
1/4 cup granulated sugar
1 teaspoon Watkins caramel extract
2 1/4 cups all-purpose flour
optional decorations – candied or glace cherries, colored sugar, sprinkles
Directions: Heat oven to 300º. Cream butter, sugars and caramel extract in large bowl with electric mixer on medium speed, or mix with spoon. Stir in flour . The dough will be a bit dry and crumbly; you may use your hands to mix completely.
Roll dough into rectangle, 15 by 8 inches, on lightly floured surface. Cut into shapes with cookie cutters or into 1 1/2-inch squares. Place about 1 inch apart on ungreased cookie sheet. Decorate with colored sugar, sprinkles or half a glace cherry. Bake about 25 minutes or until set. These cookies brown very little, and they hold their shape. Remove from cookie sheet to wire rack.
Tip from the kitchen: best made with real butter!