If you love fresh, just picked raspberries, this raspberry mustard salad dressing will let enjoy the summer fresh flavor of raspberries all year round. We were served this salad dressing at Watkins business conference today at a special leadership luncheon. I promised everyone I'd keep them up to date so here's what you missed. When you eat this you can image you were there with us!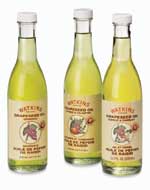 1 cup fresh or frozen thawed raspberries
2 tbsp red wine vinegar
2 tbsp water
2 tbsp honey mustard
1 1/2 tbsp honey
2 tsp Watkins Original Grapeseed Oil
1/2 tsp Watkins Thyme
1/2 tsp Watkins Black Pepper

Directions: Place all ingredients in a food processor or blender; process until smooth. Chill until serving time. Makes about 3/4 cup.
Serve over mixed baby salad greens, mmmm!
This won't taste the same with out Watkins ingredients, you deserve the very best and you can get it here in the US store or the Canadian store.