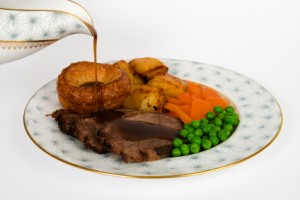 This is hands down my favorite, easy beef gravy recipe. It goes perfectly with roast beef, hamburger steak and meatloaf or any beef dish that calls for gravy. Not only is this homemade gravy quick and easy to make, it's delicious too.
Ingredients:
3 tbsp/45 mL pan drippings, butter or Watkins Grapeseed Oil
1-1/2 tbsp/25 mL all-purpose flour
1/4 cup/60 mL Watkins Mushroom Soup and Gravy base
2 tbsp/30 mL Watkins Beef Soup and Gravy base
1-3/4 cups/375 mL water
1/8 to 1/4 tsp/0.6 to 1.2 ml, to taste Watkins Black Pepper
Cooking Directions: Heat pan drippings or oil in a medium saucepan. Stir in flour and cook until bubbly. Add remaining ingredients and bring mixture to a boil, stirring constantly. Add a bit more water if gravy is too thick. Serve over mashed potatoes, rice, noodles, etc.
Makes 2 cups/500 ml, 1/4 cup/60 ml per serving.
You'll make the best tasting homemade gravy every time with Watkins soup and gravy bases.