It's apple season, so I'm busy picking, using and putting away the bounty from my trees. You probably don't have an orchard so check out your local farmers market for apples at their peak of fresh picked goodness. This is our favorite easy, apple crisp recipe as it makes a quick dessert.
Ingredients: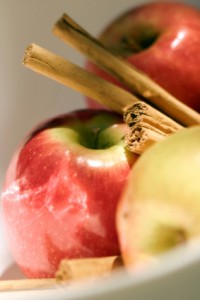 4-5 medium sized apples, peeled and cored
1/3 -1/2 cup /75-125 ml sugar, depending on tartness of apples
1 teaspoon/5 ml Watkins cinnamon
Ingredients for topping:
2/3 cup /150 ml flour, all purpose or whole wheat
2/3 cup /150 ml oatmeal
1/2 cup/125 ml brown sugar
1/4 teaspoon/1 ml Watkins nutmeg
1/2 cup/125 ml butter, softened
Directions: Mix together prepared apples, sugar and cinnamon and place in a 8″/20 cm square pan. Combine topping ingredients in a bowl cutting in butter until well blended and crumbly. Sprinkle topping over apples and bake at 375° F/190° C for about 30 minutes or until apples are tender. Serve warm or cold. Great with ice cream or whipped cream.
Tips from the kitchen:
Double the recipe, make two and freeze one baked or unbaked to enjoy another time when you are too busy to make dessert. If unbaked, reduce heat to 350° F and allow extra baking time when baking from frozen. Thaw baked apple crisp in the fridge, then reheat in oven for 10 -15 minutes.
Substitute 2 cups of fresh or frozen berries or other fruit for the apples to create a totally new dessert. Or use a mixture of apples with other fruit.