Learning how to cook a pot roast is something even a beginner can do. You'll find this roast beef with vegetables is an easy to prepare, economical one pot dinner and it's great to have for leftovers too. I always cook extra so we can enjoy it for several meals and have enough for sandwiches too. It's much healthier than cold cuts as it low in sodium and fat.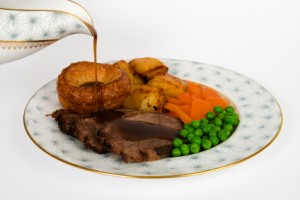 Preheat a large cast iron or heavy bottomed fry pan or dutch oven on medium-high heat. Add a tablespoon or two of cooking oil like Watkins grapeseed oil. Sprinkle the pot roast liberally with onion and garlic granules and black pepper to taste. Brown the seasoned roast on all sides in the preheated pan, remove roast and place in roasting pan, or set aside on a plate if you are using a dutch oven. De-glaze frying pan (or dutch oven) by adding about a cup or water and 1-2 teaspoons of Watkins beef soup and gravy base, stir and scrape pan while heating to a boil. Return roast to dutch oven or pour pan juices over roast in the roaster. Cover and place in a 350 deg F oven for 2 – 3 hours. About an hour before the roast is done, add some peeled carrots and potatoes cut into large chunks, you can also add some onions, garlic or parsnips too if you like. Cover and place back in the oven. Now, sit back, relax, and enjoy the wonderful smell of your dinner as it's cooking. When the vegetables are tender, remove roast and vegetables from the broth that formed. Make gravy by thickening the broth with about 1/4 cup flour, taste and add some salt & pepper if needed. Serve slices of pot roast with vegetables and gravy poured on top of all.
How To Cook Pot Roast In A Slow Cooker
A slow cooker is a great appliance to use for cooking a pot roast. After browning place the roast, pan juices and vegetables into the slow cooker, cover and cook on high for 4 -5 hours, or on low for 7-8 hours. Serve as above.
Pot roasts are economical as they are the cheaper cuts of beef. The meat is less tender and has less fat however many people feel it has a better flavor. This moist cooking method tenderizes the meat and makes a flavorful meal. You'll find all the spices and seasoning to make the best pot roast ever in the Watkins online catalog.