This turkey pot pie recipe is delicious, the surprise inside is that it contains apples and raisins which compliment the flavor wonderfully! This is a great recipe for using up left over roast turkey.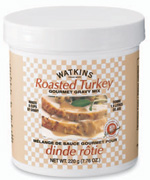 Ingredients:
1/4 cup chopped onion
1 tablespoon butter or Watkins grapeseed oil
2 cups water
1/2 cup Watkins roasted turkey gourmet gravy mix
3 cups cubed cooked turkey
1 large unpeeled tart apple, cored and cubed
1/3 cup golden raisins
1 teaspoon lemon juice
1/4 teaspoon Watkins ground nutmeg
1/4 teaspoon Watkins black pepper
1 (9 inch) pie crust
Directions: Preheat oven to 425 degrees F. Preheat a large saucepan over medium heat, add butter or oil and onion and sauté until translucent. Add water and whisk in the gravy mix, heat stirring frequently until it comes to a boil. Mix in turkey, apples, raisins, lemon juice and spices. Combine all ingredients together well and heat until just heated through. Pour into a large ungreased baking dish. Roll out pie crust on a floured surface. Place rolled pie crust over top of turkey mixture, tuck sides of pie crust down sides of dish or leave hanging over the edge. Cut slits in top of crust to allow steam to escape. Place in oven for 30 to 35 minutes or until top is brown.
Tips from the kitchen:
You may use left over turkey gravy for this however if you are like me you probably won't have any! Watkins roasted turkey gourmet gravy to the rescue, it tastes so good you'll swear your grandmother made it!
Brush your unbaked pie crust with a beaten egg yolk for a beautiful, shinny golden brown crust.
You'll find just the right spices and ingredients to make this in the Watkins US catalog or the Watkins Canadian catalog.