These organic cinnamon and spice cookies make a nice treat with a cup of coffee, herbal tea or a cold glass of milk. They are great for packed lunches and snacking any time of the day.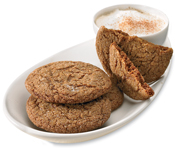 Ingredients
2 cups/500 mL all-purpose flour
1 1/2 tsp/7.5 mL baking soda
1 tsp/5 mL Watkins Organic Cinnamon
1/2 tsp/2.5 mL Watkins Organic Nutmeg
1/2 tsp/2.5 mL salt
1 1/2 cups/375 mL sugar
12 tbsp/180 mL butter (1 ½ sticks), softened
1 egg
1/2 tsp/2.5 mL Watkins Organic Vanilla Extract
1/4 cup/60 mL molasses
Directions: Preheat oven to 350F/180C. In a medium bowl whisk together flour, baking soda, cinnamon, nutmeg, and salt. In a shallow bowl set aside 1/2 cup/125 mL sugar.
With an electric mixer beat butter, remaining sugar, egg, vanilla, and molasses until well blended. Combine with dry ingredients until dough forms. Roll dough into 1 inch/2.5 cm balls and dip in 1/2 cup/125 mL reserved sugar.
Arrange cookies on a baking sheet, about 3-inches/7.5-cm apart. Bake for 10 to 15 minutes. Makes 3 dozen.
Want to know about Watkins organic spices and why buy organic?