If you are like me, cooking may not be your one of your favorite chores, but we need to eat, so it is something that needs to be done every day. Thankfully, there are many time management techniques that you can use to make cooking your family's meals faster and simpler.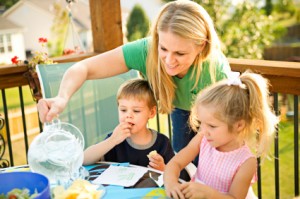 One of the easiest ways to save time during the week is to plan your meals ahead of time. Yes, I am suggesting the dreaded menu planning! This will free up the time you spend each night trying to decide what to make for dinner, racing to the grocery store, standing in line to pay for your purchases, and then driving back home to cook your meal.
Instead, once a week you'll sit down, write out the meals you'll have during the week, and make one trip to the grocery store. When you plan your meals according to what is on sale that week, this will also help you save money.
The following are some more tips to help you save time, but still provide tasty and healthy meals for your family:
The casserole was very popular in the 1970's, but it fell out of fashion during the 80's and 90's. Yesterday's busy woman's favorite stand by meal is making a come back among today's busy families and for good reason. This is a one pot dinner that is quick and easy to make and easy to clean up too, since there is only the one dish plus plates and silverware to wash.
Now that you've discovered casseroles, you may also want to consider freezer cooking. With this method of cooking, you'll spend one weekend preparing a month's worth of dinners and then you'll store them in the freezer. Many casseroles are perfect for freezer cooking too. At night, you'll take out the next day's dinner and let it thaw in the fridge. About an hour before dinner, just pop that night's meal into the oven, maybe toss up a salad and your family will sit down to wonderful home cooked meal.
Are you using your slow cooker? This is a great time saving appliance when it comes to cooking. When you get up in the morning, simply add the ingredients for your meal and let it simmer all day. When you are ready to eat, your dinner will be hot and ready to eat. The slow cooker doesn't heat up you house like the oven does so it's great for cooking year round! Again, there is only one pot to wash so clean up will be a breeze and if your slow cooker is large, you might have extra to freeze for another meal!
You can also plan ahead by cooking extra, in order to create quick and easy meals throughout the week. I really do love leftovers, for instance, using Pot Roast as an example, you can cook enough for two meals, use the leftover roast to make a stir fry or sandwiches for packed lunches.
Do you have some simple, short cut cooking tips? Please do share them with us in the comments!