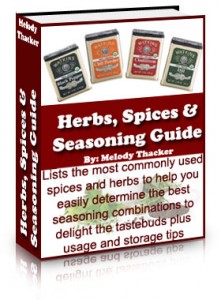 Are you wondering what herbs and spices go with different foods? Do you wish you had an encyclopedia of herbs and spices or a quick reference guide? The Herbs, Spices And Seasoning Guide is your solution!
This handy guide is great for seasoned cooks and perfect for new cooks who are just learning their way around the spice rack. You'll find lists of the most commonly used spices and herbs to help you easily determine the best seasoning combinations to delight your taste buds plus their origins, cuisines, tips on using and storing them to preserve their quality and flavor.
Here are just a few examples of what you'll find in your guide. An alphabetical list herbs and spices, where they are from and it's uses.
Allspice – Ground from the dried berries of an evergreen tree growing in Jamaica, Mexico, Guatemala and Honduras. It takes its name from its flavor, which is said to be a combination of cloves, nutmeg, cinnamon and pepper.

Excellent in baking or in Caribbean or Middle Eastern meat dishes; also great in puddings, baked fruits, cakes, cookies, cranberries, barbecue and brown sauces, cooked vegetables, pickles and relishes.
A quick list of what herbs and spices go with different foods, example:
Beef – Allspice, basil, bay leaf, cayenne pepper, chili powder, cumin, curry powder, garlic, ginger, marjoram, oregano, onion, thyme
Plus helpful tips for using and storing spices and herbs and much more. So how do you get your copy? It's easy, and free! Simply subscribe to our newsletter:
You'll receive your complimentary copy of the Herbs, Spices And Seasoning Guide plus an email twice a month filled with a variety of helpful tips, recipes and more to help you cook with just the right spice!