Potato salad is a summer staple in many homes since it can be prepared ahead so you won't need to heat up your kitchen during the hottest part of the day. Potato salad recipe is great for lunches, picnics, barbecues, and potluck dinners. This recipe is so quick and easy you can enjoy it year round!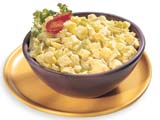 6 medium potatoes, cooked and peeled if desired
3 tbsp vinegar
2/3 cup mayonnaise, regular or low fat
2 tsp Watkins Potato Salad Seasoning
Directions: Cube cooked, cooled potatoes, mix remaining ingredients in a bowl, add potatoes and gently toss to distribute dressing. Refrigerate until serving, enjoy!
The secret is the Watkins potato salad seasoning, you can get the recipe here. Try it and see for yourself! Why not make the best potato salad ever?