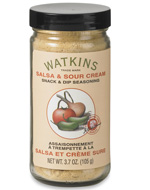 Here's an easy, make ahead salsa and sour cream seven-layer dip that's sassy and delicious to serve at your next get together with family and friends. Serve it with healthy, baked tortilla chips, I've also included that recipe is below.
Ingredients:
1 tsp. Watkins Cumin
1 can refried beans
1 cup sour cream
1/2 cup mayonnaise
3 T. Watkins Salsa & Sour Cream Snack & Dip Seasoning
1 cup shredded cheddar cheese
1/2 cup thinly sliced green onions
1/4 cup black olives
1 cup chopped, seeded tomatoes
1 can diced green chilies, drained
hot pepper sauce, to taste

Directions: Mash beans and combine with cumin, spread, over the bottom of a 9inch pie plate or other serving plate. In a small bowl, combine sour cream, mayonnaise and seasoning. Spread mixture over mashed beans. Sprinkle with cheese, green onions, olives, tomato, and green chilies. Sprinkle to taste with hot pepper sauce, if desired. Chill until serving time.
Baked Tortilla Chips
Ingredients:
1 package (6 oz/170g) corn tortillas
Watkins Cooking Spray
Watkins Chili Powder, to taste
Directions: Cut tortillas into 8 wedges each. Spray with cooking spray and sprinkle with seasoning. Bake at 450ºF/235ºC for 6 minutes or until crisp but not brown.
You'll find just the right spices and seasonings here.