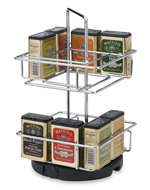 Watkins spices and spice rack are sure to compliment nearly any kitchen decor. The custom chrome plated wire rack holds 16 decorative, vintage look tins filled with your favorite Watkins organic herbs and spices, which are sold separately.
The compact, easy to clean design fits neatly inside your cupboard or on your counter top. You'll find the convenient turn table base spins easily and the handle makes it a dream to move around your work space.
Your choice of USDA certified organic herbs, spices and seasonings includes:
Organic Basil, 2 oz. tin (00503)
Organic Black Pepper, 4 oz. tin (00590)
Organic Chili Powder, 2 oz. tin (00591)
Organic Cinnamon, 2 oz. tin (00598)
Organic Cumin, 2 oz. tin (00592)
Organic Curry Powder, 2 oz. tin (00505)
Organic Dill, 2 oz. tin (00509)
Organic Dry Mustard, 2 oz. tin (00596)
Organic Garlic Powder, 2 oz. tin (00500)
Organic Ginger, 2 oz. tin (00595)
Organic Ground Cloves, 2 oz. tin (00507)
Organic Nutmeg, 2 oz. tin (00589)
Organic Onion Powder, 2 oz. tin (00501)
Organic Oregano, 2 oz. tin (00594)
Organic Paprika, 2 oz. tin (00593)
Organic Parsley (00508)
Organic Rosemary, 2 oz. tin (00504)
Organic Sage, 2 oz. tin (00506)
Organic Thyme, 2 oz. tin (00502)
Organic Chicken Seasoning, 2 oz. tin (00511)
Organic Beef Seasoning, 2 oz. tin (00510)
The Spice Rack (00515) filled with herbs and spices will make the perfect gift for a new bride, house warming, Christmas, birthday, graduation or for yourself! You'll find them all in the US catalog or the Canadian catalog.