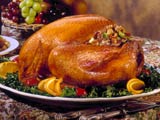 Homemade turkey soup is frugal, healthy and very tasty. What better way to use up some of that left over roast turkey? It's not hard to make but it does take a bit of
time. You'll find a simple, basic recipe here and then some optional additional ingredients to make a more hearty meal type soup.
I have to admit turkey is one of our favorite homemade soups, maybe because I only make it a couple of times a year. We really should roast a turkey more often so I can make soup!
Ingredients for a simple, basic soup:
1 turkey carcass
1 large onion, chopped
3 large carrots, diced
3 celery ribs, diced
1 – 3 tablespoons Watkins chicken soup base
3/4 teaspoon Watkins pepper
water
Instructions: In a large kettle or stock pot place leftover turkey carcass and cover with water. On high heat bring water to a rapid boil. Lower heat, cover and allow to simmer for an hour or so. I like to let it simmer for a couple of hours.
Remove pot from the heat and allow stock and bones to cool enough to handle. Strain broth into large pot or bowl. Reserve strained broth. Be sure to save any pieces of turkey meat before emptying strainer. Remove any turkey meat that remains on the carcass, discard bones. Cut meat into bite size pieces.
Return reserved broth back to a kettle or pot. Add unions, carrots and celery stirring to mix all ingredients together well. Bring to a rapid boil Add black pepper, chicken soup base to taste and optional ingredients such as corn, barley and lentils if desired (see below). Bring back to a rapid boil, lower heat, cover and simmer for about 1 hour. Taste and add more soup base if needed. Add turkey meat bring to a boil and turn off heat. If adding frozen peas (see below) add them now.
When I make meat and broth based soup I generally add everything except the kitchen sink, so I end up with a thick soup that's almost a stew, filled with lots of vegetable and grains. If you fancy this type of soup or want to add more nutrition here are some more ingredients to add.
Choose one or more of the following additional Ingredients for a heartier soup:
1/2 cup barley
1/2 cup rice
1/2 cup red lentils
1/2 cup small pasta or noodles
2 parsnips, diced
1 cup kernel corn, frozen or canned
1 cup green beans, frozen or canned
1 bell pepper, seeded and diced
1 cup frozen peas (I like to add these at the very end)
1 -2 cups roasted turkey meat, diced
leftover turkey gravy
I generally add only one grain, rice or barley or the pasta, not all of them.