Waffles are a breakfast favorite and these ones are especially good, made with pumpkin and served with warm apple spice syrup. A combination that's sure to delight the taste buds and warm the tummy on the frostiest days.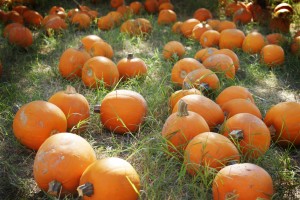 2 1/2 cups all purpose flour
1/4 cup light brown sugar, firmly packed
2 teaspoons Watkins baking powder
1 teaspoon baking soda
1/4 teaspoon salt
1 1/4 teaspoon Watkins cinnamon
4 large eggs, beaten
1 cup milk
1 cup buttermilk
1/4 cup butter, melted
2 cups cooked mashed pumpkin or 1 15 ounce can pumpkin
Directions:
Sift together the flour and brown sugar in a large mixing bowl. Add the baking powder, baking soda and salt and stir to combine all the ingredients together. In a separate bowl add the milk to the beaten eggs and mix slightly. Pour in the buttermilk and melted butter. Mix to incorporate. Fold in the pumpkin and mix until all the ingredients are incorporated together and mixture is smooth. Add the dry ingredients to the smooth mixture. Blend together making sure all the dry ingredients are moistened well. Heat the waffle iron. Pour a scant amount of the batter onto the waffle iron and cook according to the waffle iron directions. Set the oven temperature to 200 degrees. When the waffle is done place it on the preheated oven rack to keep hot. Continue cooking the waffles until all the batter has been used. Serve with warm Apple Spice Breakfast Syrup, recipe below.
Apple Spice Breakfast Syrup
Ingredients:
1 1/2 cup apple cider, unsweetened or apple juice
1/3 cup light brown sugar, packed
5 Watkins cloves
1/4 teaspoon Watkins cinnamon
Directions:
Place the apple cider into a saucepan over medium heat. Add the brown sugar and stir until starting to melt. Add the cloves and cinnamon. Stir often cook the mixture for 15 minutes or until it begins to thicken and is reduced to just shy of 1 cup of liquid. Serve warm over pancakes or waffles.
Did you know? You can substitute cooked, mashed squash in any recipe that calls for pumpkin. You'll find the best tasting spices in the Watkins US catalog or the Watkins Canadian catalog.