This is a very easy and fool proof buttercream frosting. You can make the frosting in a variety of flavors including chocolate, butterscotch, vanilla, lemon, banana and more to perfectly compliment the cake you are frosting.
Ingredients:
2 cups/500 mL powdered sugar (icing sugar)
1/2 cup/125 mL Watkins Dessert Mix, Chocolate, Butterscotch, Vanilla, Lemon or Banana
1/4 cup/60 mL butter
1/3 cup/80 mL half-and-half (creamo)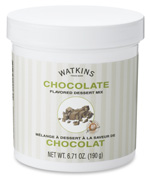 Instructions: Combine all ingredients in medium bowl and mix with electric mixer for about 2 minutes. Add more half-and-half or powdered sugar as needed for desired consistency.
This recipe makes enough to frost one 8 inch 2-layer cake, 12 servings.
Tip from the kitchen: Make the vanilla version and then flavor it with one teaspoon of your choice of Watkins extracts and flavors.